Princess Starla



Number of Operations

1

Previous Patient

Next Patient
She is the 4th patient of Act 2 in Amateur Surgeon 2.
Physical Appearance
Edit
She has red hair, fair skin tone, medium lips, and medium waist (before operation).
Alan Probe's Description
Edit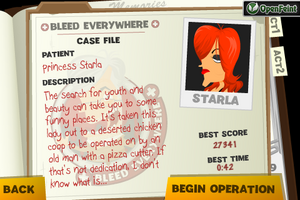 The search for youth and beauty can take you to some funny places. It's taken this lady out to a deserted chicken coop to be operated on by an old man with a pizza cutter. If that's not dedication, I don't know what is...
She is the only female patient in Act 2.
Ad blocker interference detected!
Wikia is a free-to-use site that makes money from advertising. We have a modified experience for viewers using ad blockers

Wikia is not accessible if you've made further modifications. Remove the custom ad blocker rule(s) and the page will load as expected.